Driver Positions - Dallas/Ft. Worth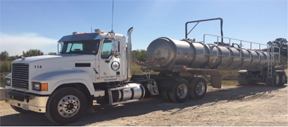 US Lime Company - Transportation Truck Drivers Needed
US Lime Company - Transportation is currently seeking professional Class A CDL Truck Drivers for the
DALLAS/FORT WORTH
area delivering liquid lime to surrounding areas and participating in all aspects of our business.
Monday thru Saturday workweek, including a weekly guarantee of pay, benefits and insurance are available, and drivers are home every night.
Qualifications:
• Must be at least 25 years of age.
• Tanker endorsement which can be obtained once employed.
• Good driving record with a minimum of 2+ years of experience.
• Applicant will be required to pass a DOT background, pre-employment physical and drug screen.
1750 Brennan Avenue, Fort Worth, TX. 76106
Electronically complete and submit application.
Download the Driver Application
Questions? Email
info@uslm.com